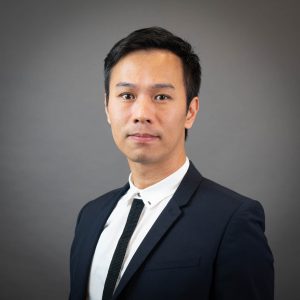 Assistant Lecturer
BSc in Computer Science, The Chinese University of Hong Kong
Trinity CertTESOL, Trinity College London
MA in English Language Teaching, The Hong Kong Polytechnic University
Ph.D. in Linguistics, The Hong Kong Polytechnic University
Locky began his English language teaching career immediately after he received his BSc in Computer Science from the Chinese University of Hong Kong. While he was teaching in various commercial English learning centres, primary schools, secondary schools, and tertiary institutions, he continued his studies and obtained his CertTESOL at Trinity College London, and both MA in English Language Teaching and PhD in Linguistics at the Hong Kong Polytechnic University. He has taught corpus linguistics, computer-mediated communications, and sociolinguistics at bachelor's and master's levels in the Hong Kong Polytechnic University, as well as EAP and ESP at the Centre for Applied English Studies (CAES), the University of Hong Kong.
He specialises in linguistic theories, the creation and development of linguistic models, corpus creation and quantitative analysis. He has published in journals such as Corpora, Linguistics and Human Sciences, and Journal of English for Academic Purposes. His areas of research interests are creativity, multimodality, digital literacy, telecinematic discourse, social media discourse, Systemic Functional Linguistics (SFL), computer-assisted language learning and teaching, learning transfer, EAP and ESP. His research inventions and innovations include the analysis of creativity using SFL, digital creativity multimodal analysis (DCMA), partial least squares structural equation modeling (PLS-SEM) in EAP, and the world's first APA 7th edition referencing style stylesheet for Microsoft Word.
Professional Affiliations:
Member, International Systemic Functional Linguistics Association (ISFLA)
Member, Hong Kong Association for Educational Communications and Technology (HKAECT)
Selected Publications / Presentations:
Law, L. (2021). Creativity and pedagogy: Is it a final fantasy in the Age of Pandemic? 7 lessons for life on the ground floor [Special issue]. Journal of Communication and Education, 5 (1), 121-134. http://www.hkaect.org/jce/5(1)/Law_2021_5(1)_pp121-134.pdf
Law, L. (2021). Creativity and power: A systemic functional multimodal discourse analysis of the co-constructed multimodal creativity-power relation in House M.D., SERIES, 7 (1), 45-62. https://doi.org/10.6092/issn.2421-454X/12425
Law, L. (2021). Creativity and register: Applying the Creativity-In-Register Cube Framework (CIRCF) to the analysis of pattern-forming creativity. Linguistics and Human Sciences, 15 (1), 97-128. https://doi.org/10.1558/lhs.20061
Grants / Awards / Other Achievements:
Faculty of Humanities Distinguished Thesis Award for Ph.D. Students 2018/19
Law, L. (2018). House M.D. and creativity: A corpus linguistic systemic functional discourse analysis approach. PhD Thesis. The Hong Kong Polytechnic University.

Best Student Paper Awards
Law, L. (2018). The 'chef' and 'guests' 'new' 'tea' 'experience' – A closer look into the Corpus of Hotel Press Release (CorHPR) (2014-present). Proceedings of The Fourth International Conference on Linguistics and Language Studies (ICLLS 2018). Hong Kong.