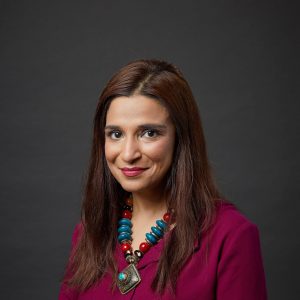 Lecturer
B.Sc (First Class Honours) in Zoology, Delhi University
Certificate in Corporate Communication and Public Relations, Hong Kong Management Association
Diploma (Honours) in Journalism and Newswriting, London School of Journalism
MA in International Journalism (Distinction), University of Westminster
Postgraduate Diploma in Education (PGDE), The University of Hong Kong
Certificate of Teaching and Learning in Higher Education (CETL), The University of Hong Kong
PhD (English Language Education), The University of Hong Kong
Aditi has been teaching language, communication and media courses to tertiary students in Hong Kong since 2004. Prior to starting her career in education, she worked for BBC World Service Radio as a news presenter and writer. In the early 2000s, she took up the position of sub-editor for an online media start-up company. Her research interests include examining the newswriting of L2 writers through Appraisal Linguistics and Systemic Functional Linguistics. In addition to supervising postgraduate students' dissertations at the CAES, she has been teaching MA courses in Applied Linguistics ('Advanced Research Methods'  'Pedagogical Grammar' and 'Gender and Language'); postgraduate courses offered by the Graduate School ('Thesis Writing' and 'Intensive English'); and undergraduate courses ('Core University English', 'Academic English for Science', 'Academic English for Education Students' and 'Academic Communication for Business'). At the Faculty level, she is involved in an initiative to support the use of gender-neutral language for curriculum design and development, and at the University-wide level, she is working on creating 'Prevention of Sexual Harassment Online Courses' or 'P-SHOCS'  and is part of a MOOC entitled 'Doing Gender and why it Matters'. She is also the recipient of HKU SPACE's Outstanding Teacher Award (2007) and HKU's Postgraduate Fellowship Award (2008).  Other than devoting her time to developing SPOCS (small private online courses) for the enhancement of students' English, currently, she serves as the Programme Coordinator of Graduate School courses at the Centre.
Special Interest Groups:
Postgraduate Writing
In-House Committees:
Director's Advisory Group
Professional Affiliations:
Hong Kong Association of Applied Linguistics (HAAL)
International Communication Association (ICA)
International Association of Applied Linguistics (AILA)
Other Major Administrative Roles:
CAES Elected Representative: (i) Faculty of Arts Academic Board Committee, (ii) Gender Equality and Diversity Committee, Faculty of Arts and (iii) PRD Review Panel Faculty of Arts Representative
Coordinator of Postgraduate Writing Special Interest Group
Programme Coordinator of Graduate School Courses at the CAES
Selected Publications / Presentations:
Jhaveri, A. (2018). Equity and diversity in higher education: Implementation of inclusive language guidelines in higher education in Hong Kong. ASAIHL Conference 2018 Proceedings. ASAIHL Conference 2018, Soka University, Japan, 26 – 28 March 2018.
Wong, L.T., & Dubey-Jhaveri, A. (Eds.), (2015). English language education in a global world: Practices, issues and challenges. New York: Nova Science Publishers.
Cheung, C.K., & Jhaveri, A. (2014). Developing students' critical thinking skills through visual literacy in the New Secondary School Curriculum in Hong Kong. Asia Pacific Journal of Education, 36(3), 379-389.
Grants / Awards / Other Achievements:
Co-investigator of a project under 'Teaching Development Grant' titled 'Online Self-paced Courseware for the Common Recruitment Examination (CRE) and employability assessment' (Project no. 749) for which a sum of HK$ 263,299 was awarded by HKU in 2019.
Principal Investigator of a project under 'Teaching Development Grant' titled 'Identification and implementation of effective language advising practices to enhance teaching and learning at the CAES and beyond' (Project No. 18/695) for which a sum of HK$ 225, 388 was awarded by HKU in 2018.
HK$ 1,568,000 received under the Quality Enhancement Support Scheme (QESS) of Education Bureau as Principal Investigator of project titled 'Enhancing students' communicative competence in academic contexts: Adopting a blended learning approach for EAP courses' (2015-2018).
Office: Room 6.05
Telephone: 3917 7330
Email Address: aditi5@hku.hk