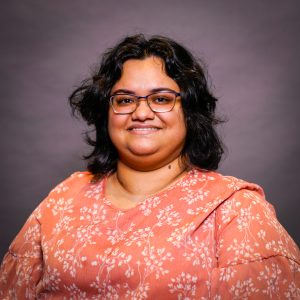 Communication Advisor
BJ in Journalism, 2nd Major Finance, The University of Hong Kong
Zeerak is originally from Pakistan and studied Journalism and Finance at her undergraduate at HKU. Prior to joining CAES, she has worked as a fact check journalist and podcast producer in Hong Kong. She currently also freelances for Agence France Press and NBC News and helps produce podcast Asia Matters. She is particularly interested in International Relations, Archaeology and Anthropology and Cultural Studies.
Selected Publications / Presentations:
Khurram, Zeerak. "Newspaper Article Spreads Misinformation in Pakistan about Covid-19 Vaccinations." AFP Fact Check, August 31, 2021.
Khurram, Zeerak. "Taliban Carrying out Door-to-Door Manhunt for Afghans on Blacklist, Report Says." NBCNews.com. NBCUniversal News Group, August 20, 2021.
Khurram, Zeerak. "Analysis: An Old Photo from 2019 Hong Kong Protests Circulates in Myanmar with the Same False Claim." ANNIE LAB, July 15, 2021.
Grants / Awards / Other Achievements:
2021 Edward R. Murrow Award for Excellence in Audio Newscast (team award)
Mr Armin and Mrs Lillian Kitchell Scholarship Award, 2017 – 2021
The SCMP Wah Kiu Yat Po Journalism Scholarship Fund
Office: Room 6.33
Telephone: 3910 2418
Email Address: zerakh@hku.hk