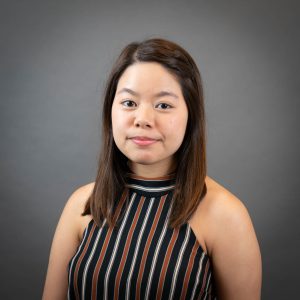 Communication Advisor
MA in Linguistics (Distinction), The University of Hong Kong
BA in Linguistics and English Studies, The University of Hong Kong
Sharon recently completed her studies in Linguistics here at The University of Hong Kong focusing on bilingualism, phonetics and information structure. Her work is mainly dedicated to English-Cantonese/Chinese bilingualism and second language acquisition in Hong Kong, focusing on the areas of phonetics, syntax and information structure.
Working under Communication Support Services, she specialises in Digital Literacy, supporting students with writing and speaking, as well as video production in the form of guest workshops and lectures for courses in other faculties, including Common Core and CiC courses.
Sharon had been working as a CAES Writing Centre peer consultant for two school years before joining the Centre as a full-time Communication Advisor in 2019. She also teaches IELTS and academic/thesis writing workshops.