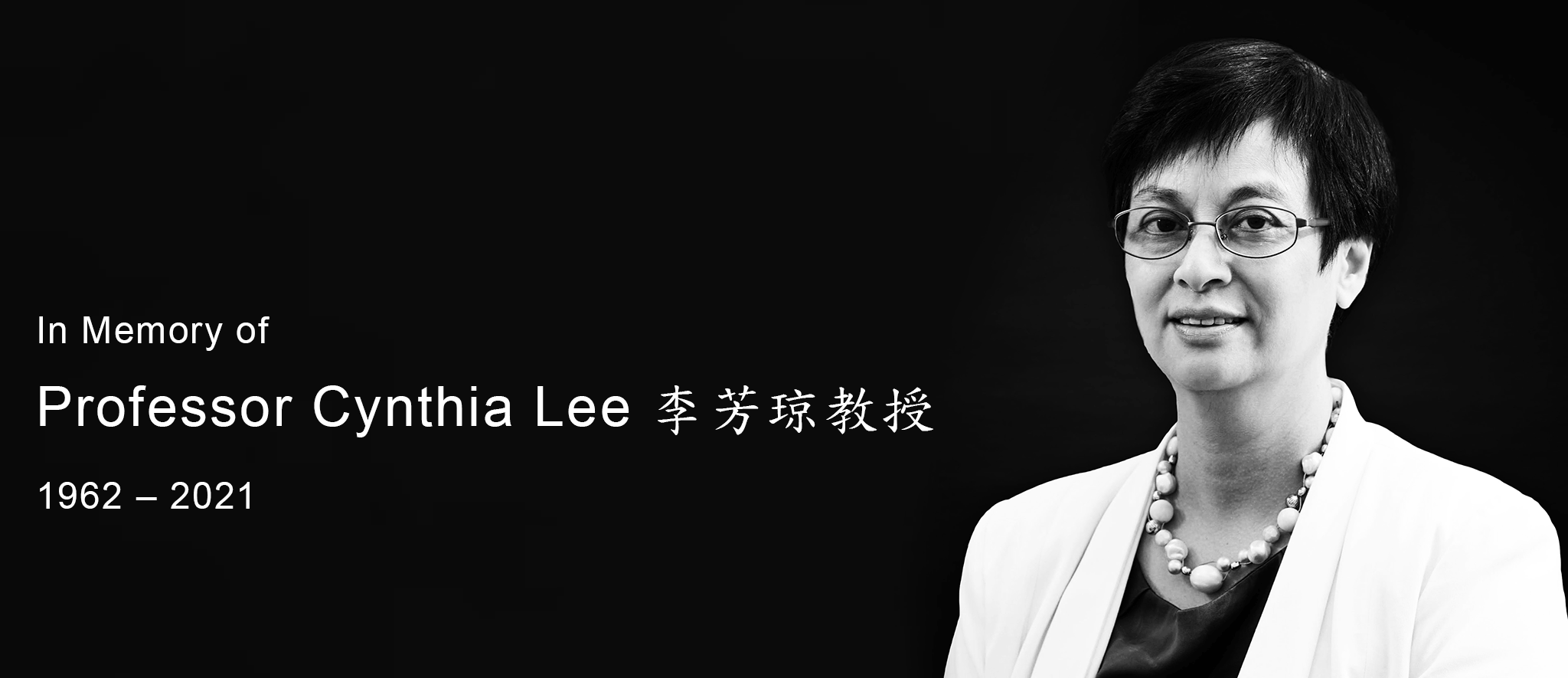 In Memory of Professor Cynthia Lee 李芳琼教授 (1962 – 2021)
Dear Colleagues and Students,
It is with great sorrow to announce that Professor Cynthia Lee 李芳琼教授, Honorary Professor in the Centre for Applied English Studies (CAES), passed away peacefully on the 6th December, 2021 after a courageous battle with cancer, and is now with the Lord. Her husband Alex, and daughter Magdalene, and family were with her throughout her last days.
Cynthia was an excellent friend and esteemed colleague to many at CAES, having first arrived here (formerly named as the English Centre) in 1992 as the English Language Instructor until 1998, and returned in 2013 as the Associate Professor.  She left CAES in 2018, but continued her close commitment to the Centre through a series of Honorary Professor appointments. She was most recently at the Hong Kong Metropolitan University (formerly the Open University of Hong Kong), where she held the positions of Professor cum Head of the School of Education and Languages and Deputy Director of Research Institute for Bilingual Learning and Teaching (RiBILT).
Cynthia had worked in the university sector for nearly 30 years, and was noted for her influential work on English for Academic Purposes (EAP)/English for Specific Purposes (ESP), discourse and pragmatics in the educational context, automated content feedback and English writing. She was key to launching our very own student-tutor support writing program with her successful initiative funded by the Teaching and Learning grant from the University Grants Committee of Hong Kong. During her years of service as the Associate Professor, our MAAL programme had become extremely strong and competitive under her leadership, and she had invested much effort and care in the postgraduate students that she supervised. Cynthia was active in professional circles in Hong Kong and internationally, including the Hong Kong Association for Applied Linguistics (HAAL) which she chaired from 2003 to 2005. She was an internationally known scholar and a driving force with energy and vision in research with many important and highly cited publications.
"I have fought the good fight, I have finished the race, I have kept the faith. Henceforth there is laid up for me the crown of righteousness, which the Lord, the righteous judge, will award to me on that Day, and not only to me but also to all who have loved his appearing." (2 Timothy 4:7-8)
Cynthia offered her life fully to education and surely will be remembered for generations to come. Her friends and colleagues at CAES will always remember her as an intellectual scholar, an inspiring teacher, a great colleague and a true friend.
Centre for Applied English Studies
The University of Hong Kong